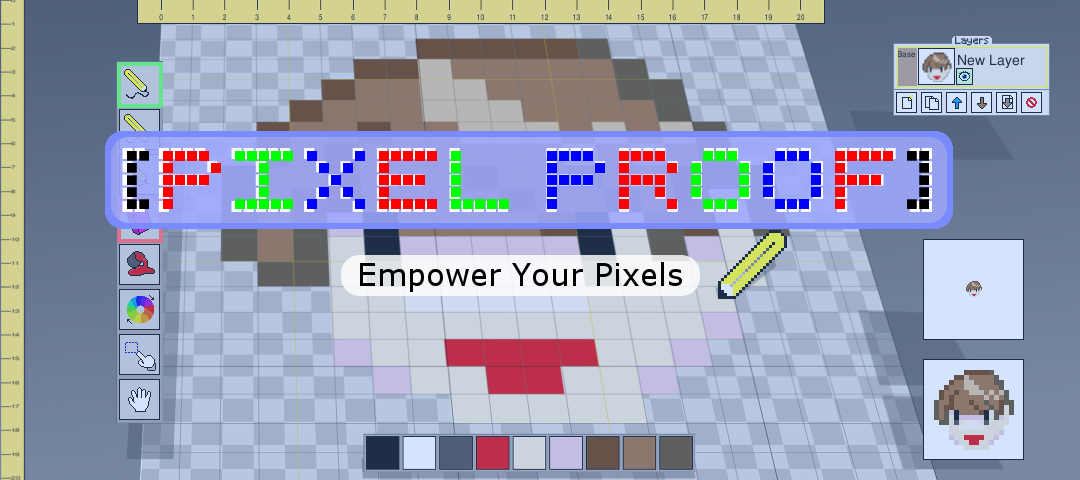 Pixel Proof
A downloadable tool for Windows, macOS, and Linux
Pixel Proof helps you make amazing pixel art and game sprites. The interface is clean and customizable, leaving your workflow smooth and focused. Included are specialized tools that you can't find anywhere else and Twitter integration so you can easily share your work.
Draw single-pixel-thick lines and curves
Instantly add an outline around your sprite
Apply shading or hue shift to make an ice/stone/poison version of your sprite
Powerful transparency manipulation tools
Twitter integration lets you tweet in-progress or finished art for your friends to see
Customize the toolbar and the quick palette bar so extra tools, options, and panels stay out of your way

.

Draw isometric shapes quickly
Unlimited animation with .GIF import/export
Open a Reference Window to refer to another image as you work.

Save and load custom palettes
Free and full-featured Pirate Edition

- Buy the Honest Edition when you decide you like it or want to support us!
Pixel Proof is in development and can use your input! If you do try it out, please send us an email and we can discuss any thoughts you have. We want to tailor it to real pixeling use-cases.
New in version 0.5.1:

* Built-in color picker (no more OS delay, many more options and future expansion possible)
* Added Onion skinning, which can be set up for both the animation and main window
* Added snap modes for Line tool
New in version 0.5.0:
* Full animation window with GIF import and export!
* Made pasted layer persistent when rotating and give a preview of the effect for supersampling
* Undo/redo buttons give more info
New in version 0.4.1:
* Supersampling modes for Rotate tool (like RotSprite)
* Added Isobox tool, which draws an isometric box shape. This can make isometric buildings incredibly quick and easy.
* Overhauled floating layer (pasted pixels)
New in version 0.4.0:
* Layers can be given offsets with the Grab tool. This makes certain adjustments much easier and will make animation very flexible when it is ready.
* Load As Layer button added to menu.
* Made layer names editable (double-click)
Purchase
In order to download this tool you must purchase it at or above the minimum price of $3.00 USD. You will get access to the following files:
PixelProof-0.5.1.exe
4 MB
PixelProof-0.5.0.exe
3 MB
PixelProof-0.4.1.exe
3 MB
PixelProof-0.5.1-OSX.zip
5 MB
PixelProof-0.5.0-OSX.zip
5 MB
PixelProof-0.4.0-OSX.zip
5 MB
PixelProof-0.5.1-x64.tar.gz
3 MB
PixelProof-0.5.0-x64.tar.gz
1 MB
PixelProof-0.4.0-x64.tar.gz
1 MB
Download demo